The Wattbike and All Blacks Partnership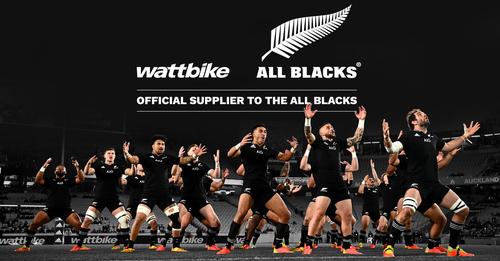 Cementing a decade-long relationship with one of the world's most decorated sport teams, Wattbike is now the official performance bike supplier to the All Blacks and Black Ferns.
A relationship built on friendship, innovation and success, the Wattbikes are at the centre of the All Blacks strength and conditioning programme - it's their secret weapon.
Wattbike will be creating workouts, rides and challenges for Wattbike riders to experience and will also be sharing the Wattbike secrets and training techniques of the All Blacks with you.
Rich Baker, CEO of Wattbike, said: "This announcement has been a long time in the making and cements what has been a very successful off-field partnership going back to when Wattbike was founded.
"New Zealand Rugby were quick to realise the benefits of off-feet conditioning and they've clearly put it to good use over the years. We're signing this deal to take the message to anyone with a fitness goal - regardless of their sport or ambitions - that the Wattbike works for all shapes, all sizes and all comers just as hard as it does for the All Blacks."
The All Blacks Strength and Conditioning Coach, Nic Gill added, "For over ten years the All Blacks have worked with Wattbike to help get the team into the best possible shape to compete on the field. The Wattbike is a highly accurate, realistic and reliable way to get intensity into our indoor and off-feet conditioning programmes. There is no doubt that the Wattbike is a world-class high-performance training tool, we're delighted to have them officially in our camp."
The All Blacks call them Watties. We call them the best indoor bikes in the world for improving your fitness. Wattbike has been the first choice for many elite sports teams and athletes including England Football, Team GB, British Cycling, Porsche and Red Bull. But they're not just for pros - if you're serious about improving your fitness the Wattbike is the perfect indoor trainer.