Versaclimber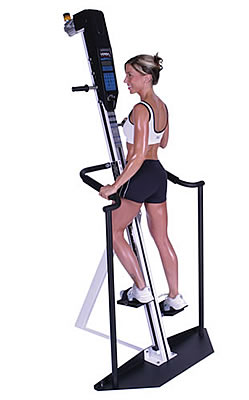 A Versaclimber workout saves you valuable time while delivering the most effective fat and calorie burning workout available.
Studies have proven a Versaclimber workout burns more fat and calories in 15 min than treadmills, ellipticals, steppers, and bikes. Made in California, Versaclimber is hand built for toughness and quality and that is a proud tradition that has lasted since 1981 when the first climbers rolled off the production line. It is an iconic and popular machine in the massive US health and fitness marketplace.
When it comes to getting in shape, dropping unwanted pounds and building a stronger and healthier heart, Versaclimber offers the most effective, complete, total body work out available of any cardio equipment. It is perfect as an inclusion in a HIIT or Cross Fit type 'circuit' as well.
Now available in New Zealand through authorised re-seller Iconsport Ltd in Tauranga, there is an extensive range of Versaclimber products perfect for use in the home, at the gym or in the local health or sports club.
There are climbng machines, and then there is the Versaclimber - the original and still the best.
Contact Us for more information or a quote.