Wattbike Studio
Group cycling enters a new dimension with the Wattbike Studio.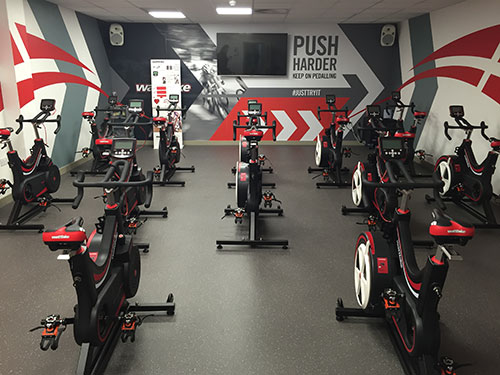 Let your customers, clients and club members enjoy a training experience like no other. All of the indvidual data of the Wattbike but with all bikes linked to a central display where riders can see their own power, cadence, left leg and right leg power split and heart rate alongside those of the other riders in the session. It's unique!
It can be a group session with a common starting and finishing point or a free ride session where people can join and leave when they want.
For the ultimate competitive group session, utilise the race section of the free Wattbike Studio software and race together over any distance you like. A great way to add a competitive element to a session, to create stand alone events for client recruitment or retention, or even to fund raise.
We'll help you create your own 'look' with a free design service for your graphics (printing done by the customer) and you can supplement it with user cards, information stands, wing banners or even Wattbike mats for each of your bikes.
There's simply nothing like it for data, ride quality and competition in an indoor group cycling environment.
Price
Based on indvidual bike price, but discount available for bulk orders. Delivery, staff traning and installation included in overall price.
A finance package is available for installations. Please enquire using the contact form.
Features
Wattbikes connect for group training
Wattbikes connect for free training
Wattbikes connect for group racing
Design support for studio graphics
Instructor technical traning to use system
Hard wire or ANT+ connectivity
Unrivalled group and comparative data
Identical ride experience
Perfect for PT group training
Encourages membership retention
Revenue generative
Supportive information stands and user cards available