Wattbike Case Studies
SAM MEECH - OLYMPIC SAILOR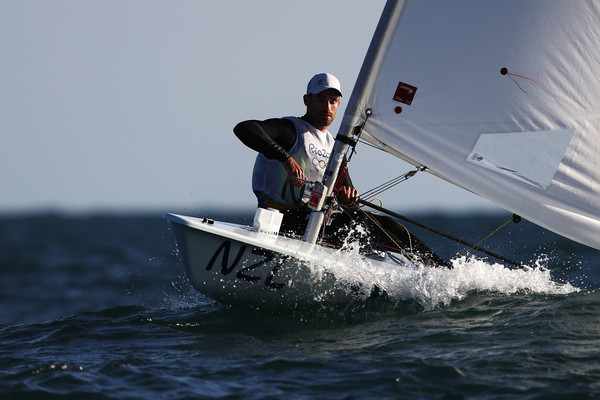 Sam Meech is one of New Zealand's top sportsmen and sailors, having taken a bronze medal at the Rio Olympics in the Laser class, a category of boat in which he has excelled in recent years.
His rise to become one of the best of the international field of Laser sailors has been nothing short of sensational. Back in 2011 he secured the Halberg Emerging Talent Award in New Zealand after winning the World Under 21 laser title - this award being the country's top accolade for any up and coming sportsman or sportswoman.
Sam is one of the quartet of elite Olympic sailors to have emerged from the Tauranga Sailing Club, along with Peter Burling, Jason Saunders and sister Molly Meech. Before and during his amazing 2016 season, which culminated in his fantastic performance in Rio, the Wattbike played an integral part of off-water preparation, as Sam explains.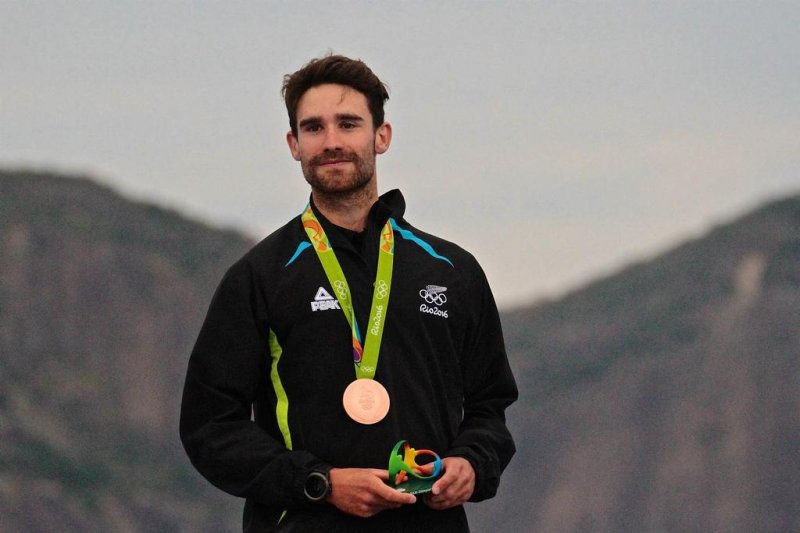 "The Wattbikes have been epic for us. We used them a lot at the gym at our training base - the Millennium Institute of Sport and Health (MISH) and we also had access to Wattbikes at Rio at our sailing base. It was awesome to have the same equipment at the games. We really pushed to have the Wattbikes as having consistent power information is super important for measuring efforts. I think everyone in the sailing team used the Wattbikes at some point during the Olympics for exercise leading into the event and cool downs post racing. I also used them for a HIIT session in the week before and then 20-30min post sailing to spin out my legs.
"When I am training in New Zealand I use the bikes at least twice a week to do interval sessions. I like to have the power feedback to measure my efforts. I think you can get a lot more out of yourself, especially when doing v02 where you would fall off your bike at the end of the interval if on the road! If the weather is bad I will also use the Wattbike at the weekend to do my longer ride.
"The Wattbikes have been at MISH since I have been training there but this was the first time the sailing team has been able to travel with them and I think it was a huge step forward. If it was up to me we would have a Wattbike at all events."
NZ MOUNTAIN BIKE TEAM – UCI TEST A SELECTION TOOL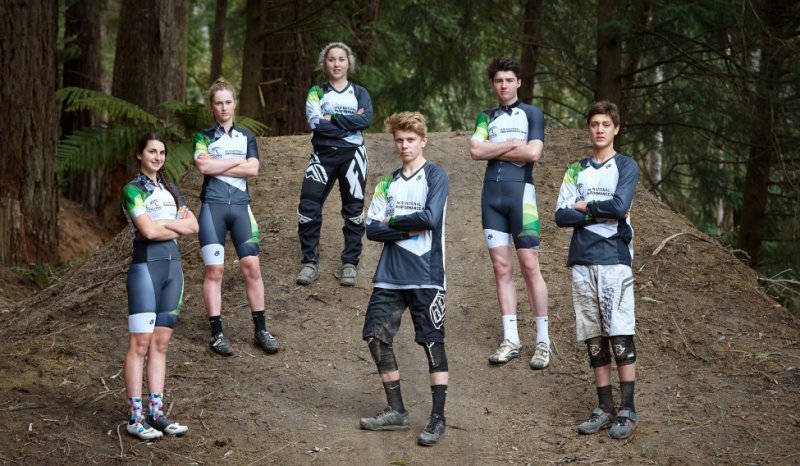 Wattbike's consistency and the UCI Power Profile test have been put to good effect by Cycling New Zealand's mountain bike programme with the test used as part of the selection programme for the first intake of riders to the new Mountain Bike National Performance Hub in Rotorua.
The initial intake of 13 riders was selected following a training camp at the campus of major hub sponsor, Toi Ohomai (formerly Waiariki / BOP Polytechnic) that included the UCI Wattbike test. The riders will come into Rotorua – which is the main centre for the iconic Redwoods forest in which they practice - on a regular basis for training camps and also receive training programmes for both on and off the bike, sports science and nutrition.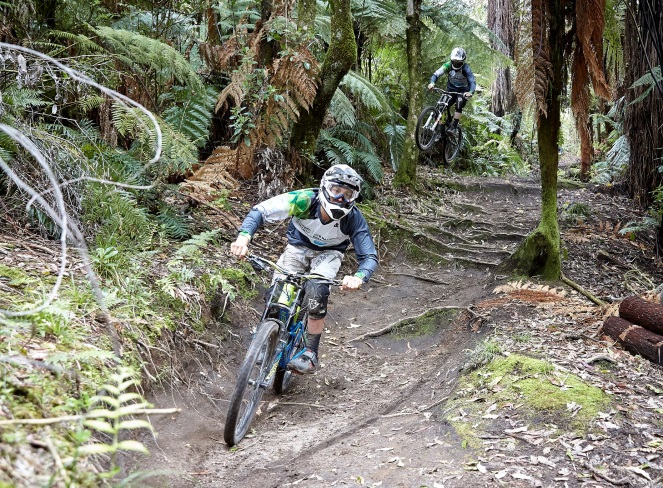 The Hub is one of a potential eight hubs that underpin Cycling New Zealand's strategy to foster and grow young cycling talent, and increase the quantity and quality of riders feeding into the National High Performance Programme.
Hub coach Sam Thompson explained: "We used the Wattbike and UCI WCC testing protocol for our annual National Performance Hub training camp to collect valuable data across our riders.
"We chose the Wattbike because of its ease of use, which was important factor when where testing a large number of athletes, also the Wattbike provided a robust piece of equipment what our riders could push at maximal effort without any issues.
"We chose the UCI WCC Test as this gave us a good markers into the different energy system used in mountain biking and could identify strength and weaknesses within a riders physical conditioning, it also gave a large global database to compare results and data for each athlete".
EMIRATES TEAM NEW ZEALAND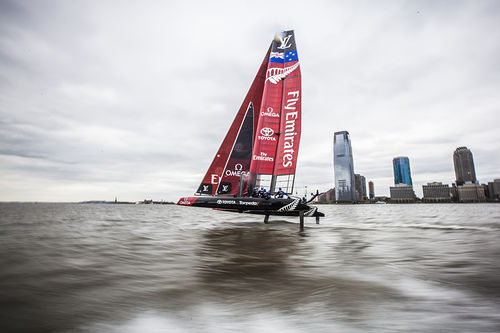 Emirates Team New Zealand put their America's Cup rivals in spin in 2017 with a potentially game changing move from arm strength to leg power.
Rather than traditional upper body grinders to provide the hydraulic power for controlling the massive wingsail and foils on the 50-foot catamaran, the NZ team have installed bikes as cycling grinders, using pedal power to work the hydraulics.
The secret, three-year process of design, build and land testing, resulted in a revolutionary decision to use cycling grinders, dubbed 'pedalstals', with twin four bike set-ups in each hull of the catamaran. Wattbikes have been integral for the training of the sailors ahead of the race which starts in Bermuda on May 26, and this week featured in a promotional video the team produced showing the exhaustive tests they put their grinding crew through.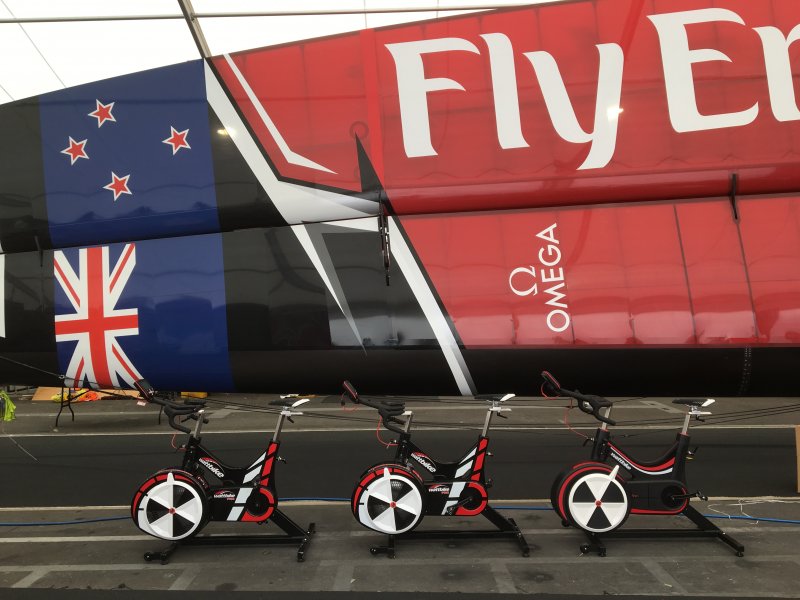 Wattbikes have been a fixture at Emirates Team New Zealand for more than a year, ensuring the sailors are physically ready for the massive challenge. Emirates Team New Zealand yachtsman Richard Meacham explained: "The Wattbikes have been a massive part in the physical preparation of our sailors for this year's America's Cup. Being able to put in some huge training rides on the Wattbike in the confines of our team base has helped keep what has been a huge secret in the design innovation the team has produced with the pedestals, and the results of the guys power and endurance is testament to the effectiveness they have bought to the campaign."
One new NZ crew member that knows all about power cycling is Simon van Velthooven, an Olympic Track Cycling bronze medallist from London 2012. He says it's been a big learning curve for both the team but results are coming; "their numbers have improved exponentially and so have mine. We've become huge, powerful beasts with endurance!"
Richard Gee, Wattbike's Distributor in New Zealand, commented: "The team chose the Wattbike as one of its primary training devices over a year ago, and they've trained and tested the 'grinding' crew on the machines ever since. With accurate wattage read out, left leg and right leg comparisons, angle of peak force and crank rotation efficiency data all available as standard, along with simple positional adjustability and multiple levels of resistance, the Wattbike was an obvious choice."
IRONMAN, RACING DRIVER AND ENTREPRENEUR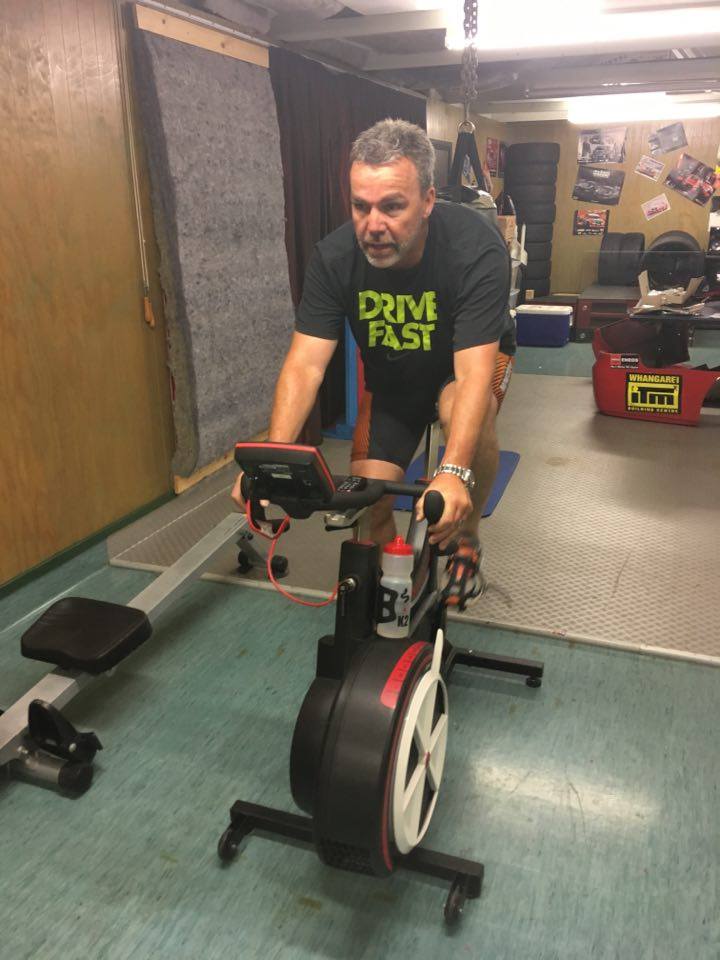 Brett Rudd is modest enough to be the last to count himself as a high performance athlete these days, but high performance is still the name of the game for the former Ironman in his current sporting life as a racing driver and in everyday life as a transport industry entrepreneur.
Brett - known as 'The Scud' in New Zealand motorsport circles – is a former ironman competitor with four NZ events and two Ironman Hawaii races under his athletic belt.
These days he has a busy life running his own pallet company – Pallet Supplies – one of the biggest of its kind in New Zealand. And competing in both the NZ V8 Ute racing series and New Zealand's North Island Endurance Series. That level of commitment alone meant when the desire to get fitter beckoned, he would have to look for a way to get fit that gave him bang for buck in terms of the time he had available to train.
There were multiple reasons to get fitter. The looming 'big one' in birthdays, a desire to get fitter and healthier and take on the young aces in one of NZ's biggest motorsport categories and improve his own abilities in a very high performance endurance car over three hour race distances in the winter months. Brett concluded that the way to tick the boxes was a Wattbike.
"I love my racing and you know in your heart of hearts you can always be a bit fitter and being fitter and healthier, as well as being a good rule of thumb for life in general, could also be worth a few tenths on the race track, particularly in longer events," he explained.
"I was looking for a piece of kit that answered all of my needs – the need to be time efficient, the need to be effective, and to be something of high quality that I would want to use time and time again. The Wattbike was an easy choice and ticked all of those boxes."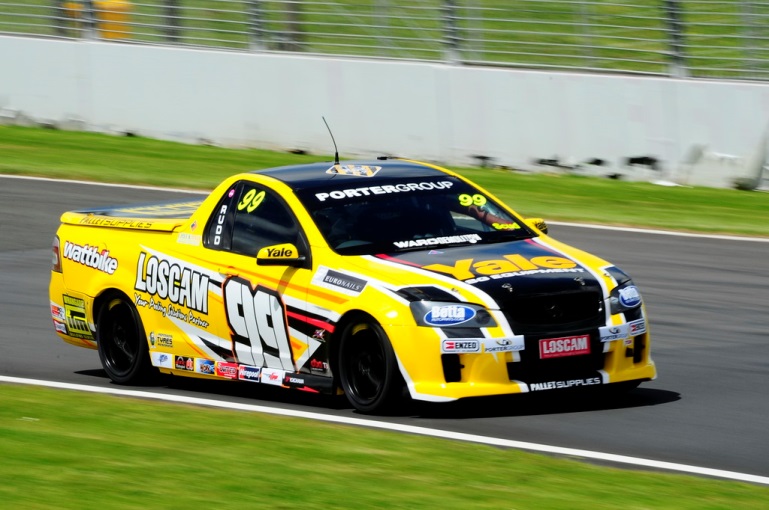 Brett is now following a training regime where he is putting in decent km on the bike every week as he aims to improve his health, and to push the limits of his own abilities out on the track.
It's paying off for the popular racer too.
In the first round of the 2016-2017 V8 Ute racing series, held on the daunting Pukekohe race track, Rudd drove from the back to the front in the round's second race to secure his biggest race win in the category in front of a crowd of 30,000 spectators.